BATTLES OF THE WARS OF THE ROSES
1455 : May 22nd : Battle of St.Albans.
1459 : September 23rd : Battle of Blore Heath.
1459 : October 12/13th : Rout of Ludford Bridge
1460 : July 10th : Battle of Northampton
1460 : December 30th : Battle of Wakefield
1461 : February 2nd : Battle of Mortimer's Cross.
1461 : 17th February : Second Battle of St. Alban's
1461 : 29th March : Battle of Towton
1464 : 25th April : Battle of Hedgeley Moor
1464 : 15th May : Battle of Hexham
1469 : 26th July : Battle of Edgecote
1470 : March 12th : Battle of Losecoat Field
1471 : April 14th : Battle of Barnet
1471 : May 4th : Battle of Tewkesbury
1485 : 22nd August : Battle of Bosworth
1487 : 16th June : Battle of Stoke.
This is a list of the battles usually considered to be battles of the Wars of the Roses, with the first Battle of St. Albans being the first battle of all. However some scholars deem the Battle of Shrewsbury fought on July 21st 1403 to be the very first one, because it was a rebellion against the King Henry IV, by the forces of Henry Percy Earl of Northumberland, also known as 'Harry Hotspur'.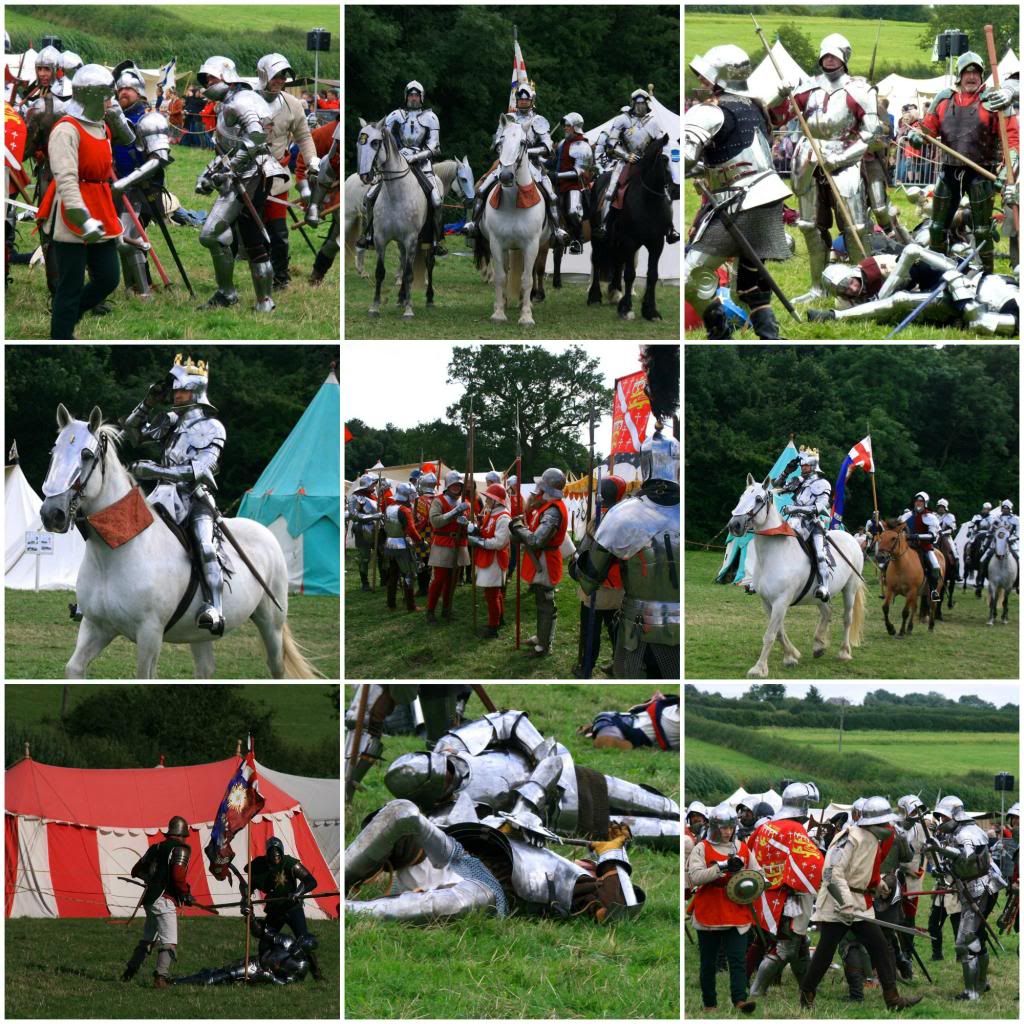 Battle of Bosworth Reenactment, 2013. Picture Credit: Group Member Don Hodgkins
WHO'S WHO IN THE WAR OF THE ROSES
The term 'The Wars of the Roses' is of seventeenth century origin. In the fifteenth century it was known as 'The Cousins' War' - the fight between the members of the House of York and the House of Lancaster.
THE HOUSE OF YORK
Richard, Duke of York. (1411 - 1460)
Cecily Neville ( !415 - 1495)
Edward IV ( 1442 - 1483)
Queen Elizabeth Woodville (1437 - 1492)
George, Duke of Clarence ( 1449 - 1478)
Richard III ( 1452 - 1485)
Queen Anne Neville ( !456 - 1485)
Richard Neville ( Earl of Salisbury) ( 1400 - 1460)
Richard Neville Earl of Warwick ( Kingmaker)(1428 - 1471)
John Neville Marquis Montague (1430 - 1471)
The Woodvilles
The Bourchiers
The Mowbrays
The Howards
The De La Poles, Dukes of Suffolk
William Lord Hastings
THE HOUSE OF LANCASTER
Henry VI ( 1421 - 1471)
Dowager Queen Catherine De Valois ( 1405 - 1437)
Queen Margaret of Anjou( 1429 - 1482)
Edward, Prince of Wales ( 1453 - 1471)
Jasper, Earl of Pembroke ( 1431 - 1495)
Henry VII (1457 - 1509)
The Beauforts
Lady Margaret Beaufort(1443 - 1509)
Henry Stafford, Second Duke of Buckingham(1457 - 1483)
THE Hollands
The Percys
The Stanleys
Archbishop, John Morton ( 1420 - 1500)